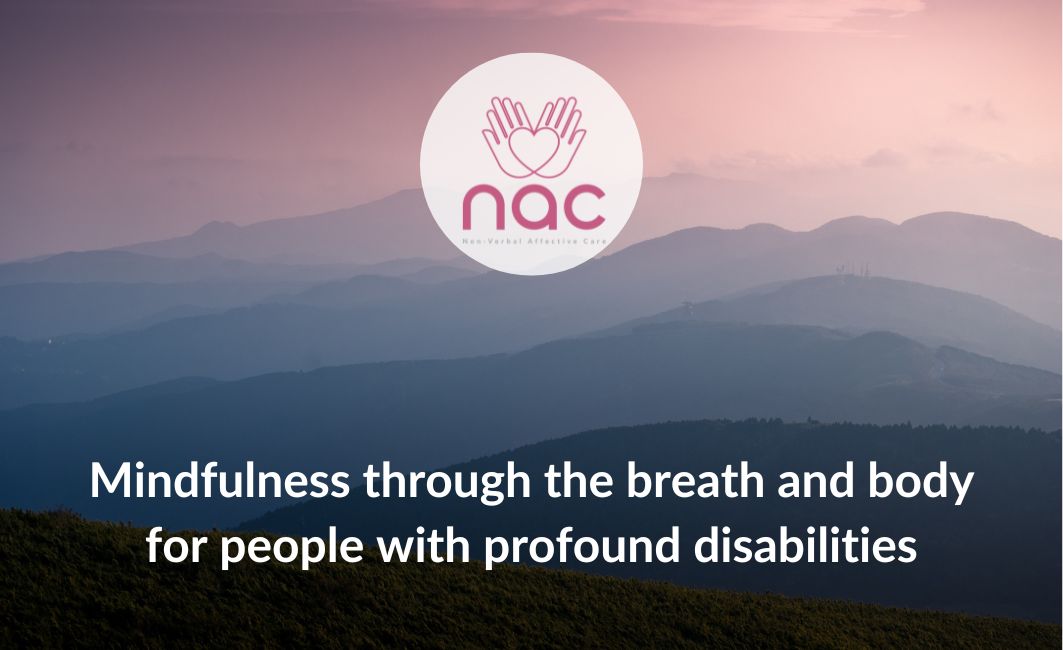 This course will give you the tools you need to practice mindfulness in your own life and to support
mindfulness experiences for people with profound disabilities
January-May 2023
Live Tutored Sessions on Zoom
Tuesdays 5.30-7pm UK time and repeated on
Thursdays 10-11.30am UK time
Sessions will be recorded so that you can view them in your own time

Cost £450
Email [email protected] to purchase access to the recordings
Benefits of mindfulness practice
Research has shown that mindfulness can be beneficial for our health, wellbeing and learning. Some of the benefits of regular practice have been found to be:
– increased calm
– greater sense of connection
– increased confidence and self-awareness
– lower anxiety
– improved mood
– more able to focus and sustain attention
– improved memory and ability to learn
– improved physiological and brain function
– better sleep and digestion
Course description
In this course, you will develop your own personal mindfulness practices to improve and sustain your wellbeing, as well as learn how to safely offer mindfulness experiences to someone who needs support. To support mindfulness practice for someone else, your own mindfulness is essential. 
This is a practical course made up of 3 modules of 4 weeks each, spaced out over 5 months.  The course will require a commitment to attend at least one session a week or watching the recording before the next live session, to put what you are learning into practice in your own time and some note taking / reflective journal writing, (or recording your reflections using a voice recorder).
Live 90 minute sessions will be held on Zoom on Tuesdays with the same session repeated on Thursdays so that you have two opportunities to attend. You can attend one or both sessions and if you cannot attend either, you can watch the recording in your own time. Recordings will be available to all students to access during the course and for two years after, to come back to at any time for a refresher and to use in practice. 
There will be 13.5 hours tutored sessions plus a requirement for guided self-practice each week (30 minutes 1-6 days a week depending on circumstances) and, where possible, with a person with profound disabilities.
The course includes
– Tutored sessions covering theory and practice
– Recordings of live sessions with guided practices
– Opportunities for group discussion and reflection
– Guided practice in-between live sessions
– Support from course tutors
– Q&A and troubleshooting sessions
– Optional membership of a private WhatsApp group for course students for peer support and sharing
– Comprehensive course notes and E-workbooks
– Recording and monitoring tools
– Access to NAC's Promoting Emotional Wellbeing, Trauma, and Emotional Regulation on demand courses (worth £80)
– A certificate of completion for those who have completed all elements of the course (no formal assessment, tests or exams are required)

Total cost: £450
email  [email protected] for more information and booking
Course dates and times
Module 1: Mindfulness through the body

Tuesday 5.30-7

Thursday 10-11.30

Week 1

3rd Jan

5th Jan

Week 2

17th Jan

19th Jan

Week 3: Self study

Week 4

31st Jan

2nd Feb
Module 2: Mindfulness through the breath

Tuesday 5.30-7

Thursday 10-11.30

Week 1

28th Feb

2nd March

Week 2

7th March

9th March

Week 3: Self study

Week4

28th March

30th March
Module 3: Mindfulness through breathing meditation

Tuesday 5.30-7

Thursday 10-11.30

Week 1

18th Apr

20th Apr

Week 2

25th Apr

27th Apr

Week 3: Self study

Week 4

16th May

18th May
Who the course is for
This course is suitable for anyone involved in the care, support or education of children or adults with severe or profound intellectual disabilities, profound and multiple learning disabilities (PMLD) and autism, dementia or brain injury and who use ways other than words to communicate. It is suitable for you if you have supported people with profound disabilities in the past, currently or if you will do in the future.
You may come from any 'professional' or 'non-professional' background and may be a family member, carer, teacher, teaching assistant, personal assistant, physiotherapist, occupational therapist, psychologist, nurse, wellbeing practitioner, music therapist, yoga teacher, massage or other therapist (this list is not exhaustive and we are sorry if we have missed off your role).
No prior experience is needed. An open mind and willingness to learn and practice with compassion for yourself and others is all that is required.
What you will learn
• What mindfulness is and what benefits it can have
• Adapted mindfulness strategies that can be used to safely and effectively support someone with profound disabilities
• How to use mindful touch to facilitate another's experience of the peace, calm, comfort and freedom available in their body, breath and present moment
• How to incorporate the practice of mindfulness into daily life
• How to observe and record impact and outcomes
• The science of mindfulness and evidence for its efficacy
You will take away tools and strategies that
• Can be used to take care of your own wellbeing whilst supporting others
• Can be used in home, education and adult services and settings
• Can be used to support children and adults
• Do not require cognitive and language skills and abilities
• Do not require any specialist equipment
Course Leaders
Amber Ward completed her 500hr Yoga Alliance accredited yoga teacher training in 2005 and has been training others in this specialist field since 2007. She is well known as a leading 'special needs' yoga teacher in the South East and has been teaching yoga to adults with, and without, additional needs since 2004. Amber has taught yoga at a variety of settings across Sussex, including Chailey Heritage Foundation, SCOPE, Outreach 3 Way,  The Grace Eyre Foundation, Sussex Autistic Community Trust in Bognor and The Bevern Trust. Amber is strongly influenced by, amongst others, Scaravelli and Humanist Yoga, The Feldenkrais Method, Insight Meditation and her work is informed by neuroscience.
Since February 2021 Amber has been working as an Occupational Therapy Assistant in an acute hospital, specialising on the Neurology Ward. She is motivated and amazed by the brain's plasticity and the limitless potential she sees unfolding in her students and patients. She has completed the Special Yoga for Profound and Multiple Learning Disabilities (PMLD) and Cerebral Palsy training, HANDLE Level 1 and Level 2 practitioner training and is currently studying Anat Baniel's 'Neuromovement.'
Dr Julie Calveley PhD is the Founder Director of NAC, a UK based community interest company that exists to support the emotional wellbeing of people with severe and profound intellectual disabilities and PMLD (www.nacwellbeing.org). Julie is a registered learning disability nurse with over 25 years of experience and qualifications and training in psychology, mental health, behaviour, neuroscience and trauma. She is the author of a number of publications and book chapters in the field of intellectual / learning disabilities.
Total cost: £450
Email  [email protected] to book a place

Limited subsidised rates available for family members